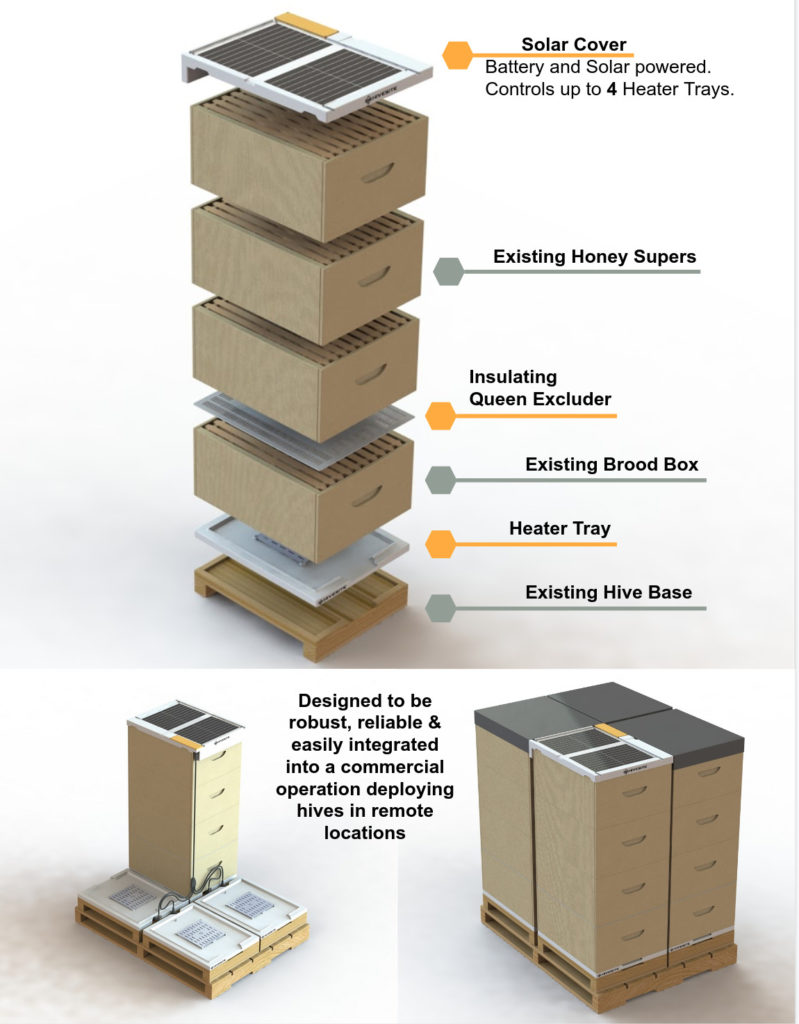 Hivesite Disruptor (pre-order)
A simple chemical-free alternative to keep Varroa mite out of your hives. Save time, avoid hassle, and be chemical-free.
$299
$69
Power kit (one per up to 4 adjacent hives): Solar-battery and connection cable.

Base kit (one per hive): Heater-Base + iQE.
Pre-order discount applied, valid till end of April 2022
(+ shipping extra)
Completely self-contained and powered by the sun, simply install it once and leave it on the hive for year-round treatment.
What to order: You need a Base kit for each hive, as well as at least one Power kit which can power up to 4 adjacent hives.  Note that it is not practical to move the Power kit around to treat different hives, we strongly suggest leaving it on the hive for hassle-free protection against Varroa. 
Installation: Install Heater-Bases (replacing most existing bases) under each of your hives, place the insulating Queen Excluder (iQE) above the brood box, then connect each Heater-Base to the Solar-battery cover (each cover supports up to 4 adjacent Heater-Bases).
Treatment: A 2 hour heat treatment is applied, where the brood box temperature is gently elevated to 44°C to kill or disable the mites in the brood area, without harming the colony.
App: Choose to treat manually using our bluetooth app or set it on an automatic schedule (recommended once every 2 weeks during season).  Treatment history and hive health can also be tracked via the app bluetooth connection.
Finalizing design and batches of production runs will begin once we receive at least 1000 pre-orders. Estimated shipping starts late 2022.
Show your demand for a chemical-free beekeeping future. Lock in your discounted price and place in line now.
Subtotal: $0 USD