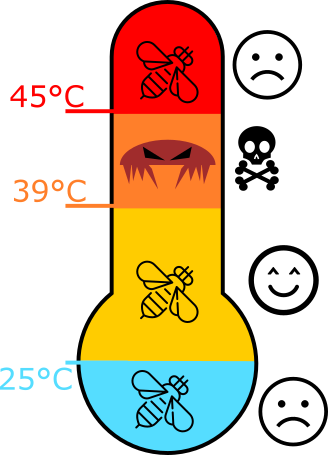 Heat treatment is a technique to treat varroa mites in beehives without chemicals. However, it is not currently popular due to the time and difficulty involved. HiveSite™ aims to change that with our innovative new solution that takes away the time and labour to apply chemical-free heat treatment.
Heat treatment mimics the bee's natural defense mechanism against other pests like wasps and hornets. While bees are able to kill off individual invaders with heat, they cannot apply this to the whole brood area in order to disrupt Varroa mites. HiveSite™'s thermal treatment system harnesses the power of the sun, automatically heating the brood area of the hive to ~42°C,which the bees can withstand but the juvenile mites cannot. This temperature range will also outright kill many adult Varroa, or render them infertile. Either way, the lifecycle of the mites is disrupted by applying a short treatment at regular intervals, eliminating the need for chemical treatments to maintain colony health.
Will these temperatures cook my bees?
Overall the vast majority of the colony (adults and brood) are perfectly safe and benefit on a whole from the treatment.
The HiveSite™ system focuses the heat on the brood area, where mites breed. Mature bees, including the Queen, are free to move to cooler parts of the hive and will naturally do so, with some bearding around the hive entrance.
Some mortality of Drone brood, which typically is found at the bottom of brood frames close to the heat source, may occur. Drone brood is more sensitive and a preferred target for Varroa, and the loss of some Drones within the colony can be beneficial overall to the colony strength and honey production (a known technique to reduce varroa is to manually remove Drone brood). It is also important to remember that the alternative is chemical treatments which are pesticides and have side effects on bee health and productivity.
A minor amount of brood (mainly uncapped cells) may also be lost due to the heat treatment but again we are expecting this to be offset by optimizing the treatment schedule over the season and overall improved productivity of the colony, vs chemical treatments or leaving the Varroa to destroy the colony.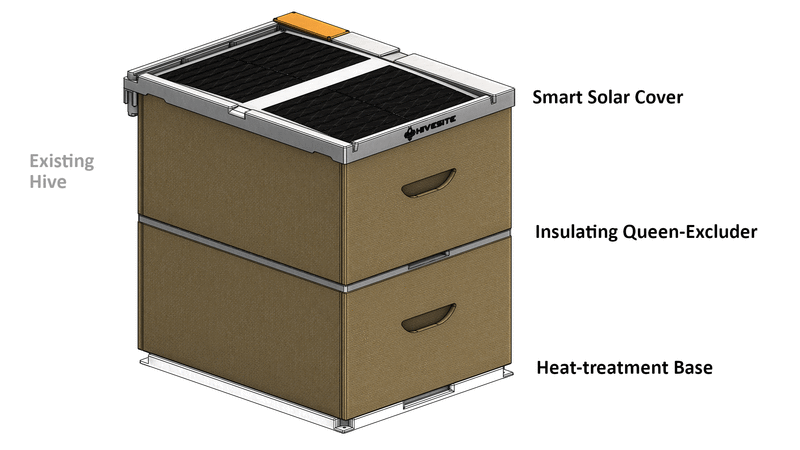 How is HiveSite™ different to other beehive heat-treatment systems?
The HiveSite™ solution is one of a kind, with the following unique features:
Fits existing hives: Works on existing Langstroth hives
Labour-free: After a simple initial install, stays on the hive and is labour and maintenance free from then on, designed to last 10+ years on the hive.
Self-powered: Solar-battery powered so does not require plugging into a power source, nor changing/charging batteries.
Automatic regular treatments: Applies treatment without intervention to keep mite levels down
Cost effective: Up to 6 hives can be powered from a single Solar-battery.
Compatible with commercial operations by design, including pallet truck/helicopter transport.
Efficient design: Bespoke insulating Queen Excluder enables brood box to reach required mite kill temperature range while still letting worker bees transit into the honey supers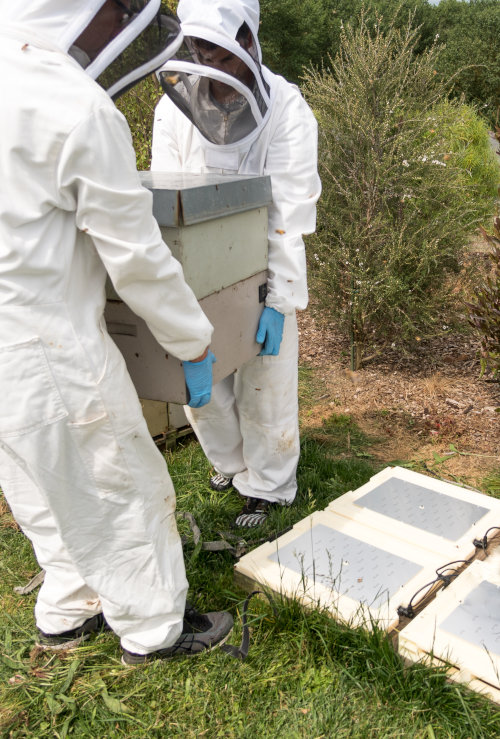 Leading to the following practical benefits:
Reduces risk of Varroa resistance to current miticides
Premium organic-compatible honey production, residue-free
Eliminating unneeded inspections of the hives reduces: hive structure damage, colony disruption, disease transmission, and crushing of bees, risk of rolling the Queen.
On-hive power-system allowing additional upgrades including GPS tracking, weight and health sensors
Additional potential benefits which we are in the process of proving by running a year long trial:
Potentially reduce manipulation workload (hive strength adjustments) for beekeepers. After winter, 18.9% of colonies in NZ are considered weak, and need intervention to increase strength
Potentially increase honey yield
Potentially less drag on honey production compared with the main organic treatment alternatives.
Potentially reduce Colony loss
Potentially stronger colonies through less Varroa and less chemical exposure.
Reduce colony winter stress & lower supplement food consumption by gently heating the hive during the coldest conditions.
What evidence is there to support your approach?
There are a number of scientific studies conducted around the efficacy of heat-treatment, concerns of sperm health in drones and queens, as well as long term effects on worker bees. Due to our carefully designed treatment approach, we mitigate the risk to drone and queen sperm viability. Third-party scientific papers relating to heat on bees are summarized below, along with our own commentary:
Effect on Fertilized Queen Bees
Effect on Drone sperm motility
Effect on Worker Bees Sucrose Sensitivity and lifetime
Effect on Varroa Mite: immature and adult within brood
Effect on Varroa Mite: phoretic mites (mites on adult bees)